For those of us who aren't "purists," oatmeal by itself can get a little boring. Trust us, we get it! But as we meet more and more people, we're learning that oatmeal is only limited by our creativity. This page is dedicated to those looking for a new bowl of oatmeal.
Chris and the kids-- Fresh & Fruity
Cooked in the microwave for convenience, add frozen blueberries as soon as it comes out, stir (so blueberries thaw), then add a small handful of pecans, shoreline dried cherries, half of a sliced banana, and around 2 teaspoons of brown sugar.
Scott-- Peanut Butter & Honey
Cooked in the microwave for about 1:40, add a heaping tablespoon of peanut butter and honey as soon as it comes out. Let it sit for a few minutes while making your coffee, then stir and sprinkle some brown sugar on top along with half of a sliced banana and some pecans.
The basic recipe- start with this and add your favorite fruits, nuts, flavors!!
Make this recipe in a pint jar (or other sealable container) and put it in the refrigerator the night before you'd like to enjoy it. In the morning add fresh fruit and nuts and enjoy!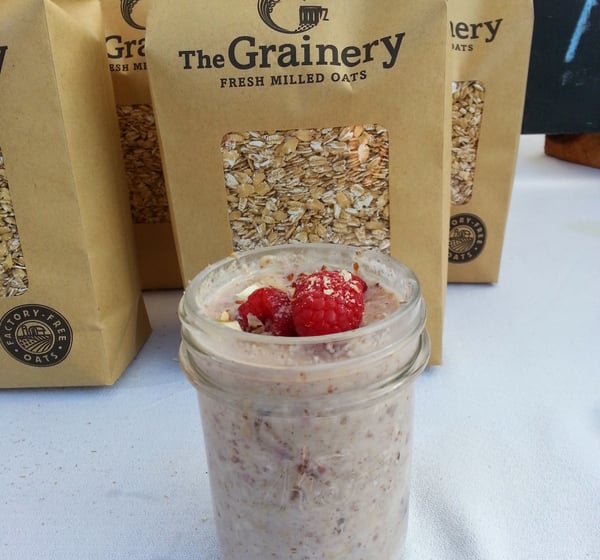 1/4 cup uncooked Grainery oatmeal
1/3 cup skim milk
1/4 cup vanilla Greek yogurt
1 1/2 tsp ground flax seeds or chia seeds
1/2 to 1 Tbsp honey (depending on how sweet you like it!)
Raspberry, vanilla, almond flavor- Add 1/4 tsp vanilla, 1 Tbsp raspberry jam (we use Simply Fruit), add 1/3 to 1/4 cup fresh raspberries. Mix well and place in the refrigerator. In the morning add chopped almonds and extra raspberries and enjoy!
Pineapple coconut flavor- Replace skim milk with coconut water or milk, add 1-3 tsp honey (or other sweetener), 1/4 cup chopped pineapple (fresh or drained canned). Mix well and place in the refrigerator. In the morning add chopped almonds and extra pineapple and enjoy!
Store uneaten portions in the refrigerator for up to a week
Pat's Fall Cider Oatmeal (Apple Pie Oatmeal) -
Substitute cider for water. Cook as you normally would. Cut up some chunks of your favorite type of apple while the oatmeal is cooking -- we recommend McIntosh & Honeycrisp. Once you have the consistency you prefer, add apples and a tsp of vanilla, sprinkle with brown sugar and cinnamon, then enjoy!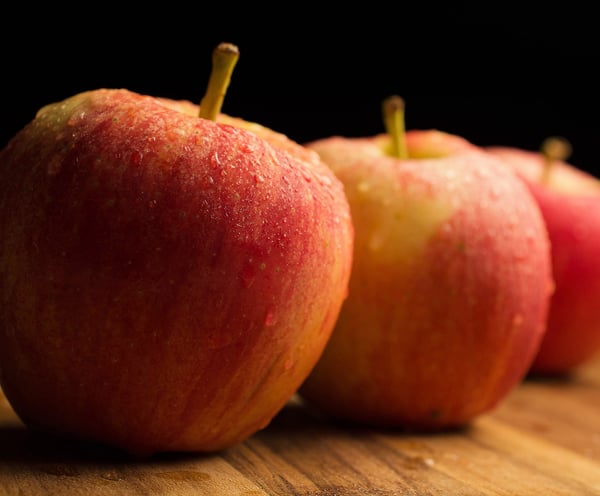 The most requested recipe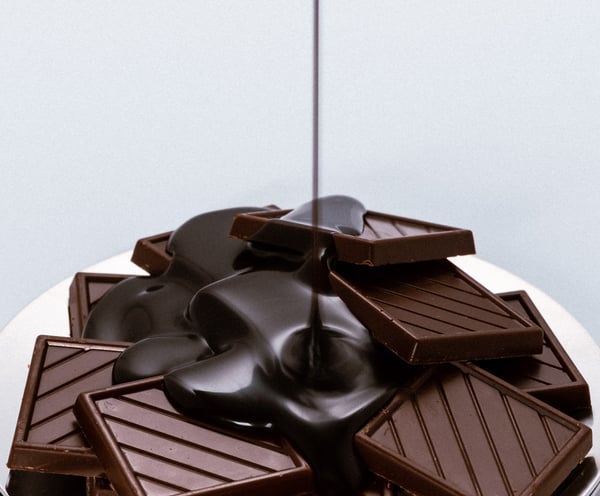 Substitute milk for water and cook as you normally would.
1 1/2 tsp Hershey's Special Dark Chocolate Cocoa powder (regular cocoa powder can be substituted for a less chocolatey version)
1/4 tsp vanilla
2 tsp sugar (3 for those of us with a sweet tooth)
2 tsp brown sugar
Even better: add a heaping tsp of peanut butter and a dab of butter
Baked Oatmeal with Apples, Raisins and Pecans
2 cups Grainery Fresh Milled Oatmeal
3/4 cup light brown sugar
1 cup pecans, divided
1/2 cup raisins
1 tsp baking powder
2 tsp cinnamon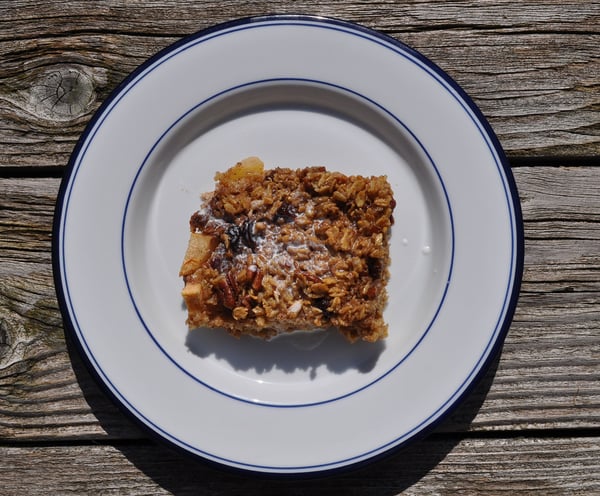 1/2 tsp salt
4 tbsp melted unsalted butter
2-4 apples, peeled and diced
2 large eggs
2 cups milk
1 tsp vanilla
Heat oven to 325 degrees. Grease an 8 or 9 inch baking dish. In a medium bowl, combine the oats, brown sugar, 1/2 cup of pecans, raisins, baking powder, cinnamon and salt. Mix well. In another bowl, break eggs with a whisk, then whisk in the milk and vanilla until well combined. Add the milk mixture to the oat mixture, along with the melted butter. Scatter the apples evenly on the bottom of the prepared baking dish. Pour the oatmeal mixture over top and spread evenly. Sprinkle the remaining 1/2 cup pecans on top. Bake for 30 minutes, until the top is golden brown and the oats are set.
Other options: Instead of raisins, try cranberries or cherries. Any nut can be used in place of pecans. Adjust brown sugar to your taste.
GREAT warm or cold. Just grab and go!